By

Khuram Rahat | SVP Sales
The AWS Well-Architected Framework helps cloud architecture teams design, build and run secure, high-performing, resilient, and efficient infrastructure for a variety of applications and workloads. It consists of six design principles, or pillars, that collectively provide a consistent method for evaluating architectures and implementing scalable designs. It also includes domain-specific lenses, hands-on labs, and the AWS Well-Architected Tool, which provides a mechanism for regularly evaluating workloads, identifying high-risk issues, and recording improvements.
AWS also manages a community of principal, senior principal, and distinguished engineers who are responsible for driving Amazon's overall technical architecture. These savvy folks work to socialize their knowledge, which enables leading consultants such as NorthBay are on the leading edge of all things AWS. Our staff is skilled-up where needed, so we can bake in the latest best practices into our internal review processes, and put mechanisms in place to ensure compliance.
What are the six pillars of the AWS Well-Architected Framework?
The following six pillars provide AWS best practices for initial development, as well as for regular health checks as infrastructure grows and evolves.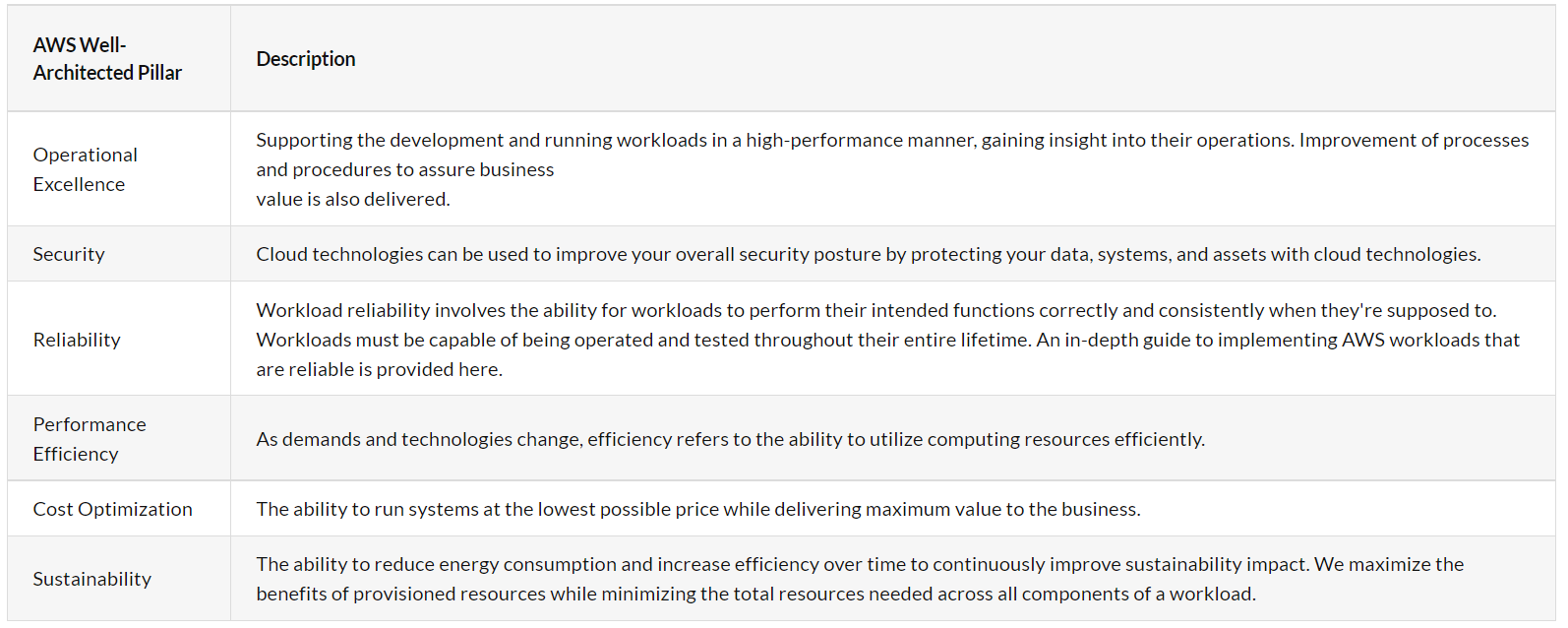 What is an AWS Well-Architected Review (AWS WAR)?
An AWS Well-Architected Review (WAR) is a measurable approach for assessing how well an organization's architecture aligns with the six key framework pillars. WARs enable IT teams to evaluate and optimize architectures as new features and cloud services are made available.
In a WAR, teams receive actionable recommendations for improving AWS workloads over time by applying the AWS design principles. Optimizing performance and optimization on an ongoing basis means always planning for future workloads that are as secure and reliable as possible. Teams also gain the insight needed to make informed decisions about your architecture in a cloud-native way, as well as heightened knowledge about how your design decisions affect your products or services
What are NorthBay AWS WARs for enterprises?
As an AWS Premier Consulting Partner, NorthBay Solutions specializes in AWS Well-Architected Reviews, which are conducted at no charge.
In fact, we have incorporated "principal engineering thinking" into all aspects of our Well-Architected Reviews so that customers can leverage our learnings at scale. We have also applied our experience developing and running large-scale AWS-based environments to help enterprise organizations develop well-architected enterprise architectures, which leverage a principal engineering community with distributed ownership by the line of business teams. By conducting WARs across their entire portfolios, CTOs and other technology leaders can better understand shortcomings and provide training.
As an example, NorthBay recently completed an AWS WAR for a U.S. fintech company's mission-critical payments and reconciliation workload, as part of our ongoing partnership spanning application modernization, solution re-architecture, software development, and innovation. It was instrumental in helping to identify gaps and ensure that best practices and guidelines are followed across all WAR pillars. This process identified hidden problem areas that required immediate attention. And, as a result, risks were proactively mitigated, performance was improved…and most importantly, the fintech IT team dramatically increased their level of confidence and trust in their workload.
You can learn more about NorthBay no-charge AWS WAR reviews, and how to find out if you may be eligible for $5,000 of credit from AWS, in our blog post, Evaluate Your Architecture Against AWS Best Practices with a Well-Architected Review (No Charge).